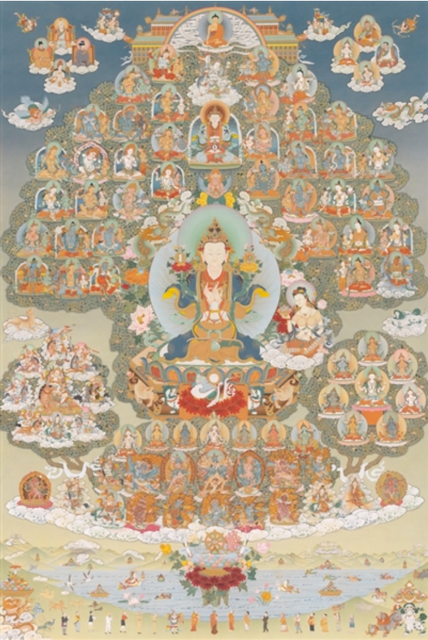 Meeting Shambhala—An Introduction to the Shambhala Lineage
This course is a progressive exploration of the core elements of the Shambhala Buddhist tradition, which is the union of warriorship and Buddhism. The root of receiving the practices of any lineage is the relationship between the living lineage-holder—who holds the stream of teachings and realization—and the student. To support that, the student must understand the lineage they want to enter, in this case the Shambhala lineage held by Sakyong Mipham Rinpoche. The course is designed for all levels of practice and will be of interest to new and seasoned practitioners alike.
The course will cover what a lineage and lineage holder are; what meditation is in general and according to the outlook of a lineage; and will explore the views of basic goodness and natural hierarchy in their relationship with the Rigden and Sakyong. The major figures in the Shambhala tradition will be presented through the Supplication to the Shambhala Lineage, with special emphasis on Gesar of Ling and the Rigdens, who Chögyam Trungpa Rinpoche named as the sources of the Shambhala terma teachings. The class concludes by examining the points of direct intersection between a student and a lineage as a way of showing the unique features of Shambhala Buddhism and its cultural container.
PLEASE NOTE: Feel free to register even you cannot join during all dates/times listed. We can make arrangements to allow you to watch the video(s) at your convenience.
Topics by Class
Class One: Lineage and Lineage Holders, Teacher and Student, Cultural Aspects of Lineage
Class Two: Meditation, Basic Goodness, Natural Hierarchy, The Rigden
Class Three: The Shambhala Lineage Supplication, Dzokchen, Mahamudra, Rigdens and Dharmarajas, Gesar and Ling
Class Four: Warriorship and Buddhism, Drala and the Mukpo Lineage Teachings, How Warriorship and Buddhism Interweave
Walker Blaine has been part of the Shambhala community for 35 years, spending many of those years working, living, or on retreat at our land centers. In addition to being a student of Sakyong Mipham Rinpoche and the Druk Sakyong, Walker has studied intensively under the guidance of Khenpo Tsültrim Gyamtso. Since 2012 Walker has provided background support for the texts and instructions of the Shambhala lineage, as well as overseeing Tibetan translation projects for Sakyong Mipham Rinpoche. His account of the Rinchen Terdzö received by the Sakyong in 2008 can be downloaded here. Walker lives with his wife and son in Halifax, Nova Scotia. His two albums of Shambhala and Buddhist music are available on iTunes.
Price: 25.00
Patron price: 40.00
This program also allows for our generosity policy where you pay what you can afford.